Updating Your Home With Genesis Cabinet
Your home kitchen is one of the most important aspects of your home and is often referred to as the "heart of the home". This is because so much happens in a kitchen. Whether you're someone who has an abundant love for cooking or enjoys entertaining, the way you design your kitchen can make the world of a difference. Regardless if you're building a new kitchen, or remodeling your existing space, Genesis Cabinet can help build the space of your dreams! Learn more about our process and how we simplify the stressful parts of your kitchen remodel!
What's Included
At Genesis, our goal is to take on the burden of a kitchen remodel, creating a stress-free process for you. Our experts pride themselves on their extreme attention to detail,  expertise on what works and what doesn't.. From the beginning details to the final walk through, we're there with you every step of the way. 
Cabinets – We have hand selected five key cabinet partners that offer innovative design ideas alongside superior quality. Each partner has been personally vetted by Genesis to ensure solutions that find the balance between beauty and function.
Countertops – At Genesis Cabinets, we do the heavy lifting for you. By having specially negotiated pricing, we can source the right countertops, at the right price for your project.
Design & Project Management – We offer these complimentary services to allow you to have one-point of contact through the entire project, help keep the project on track, solve problems that arise and ensure that your vision comes to life.
Installation – working alongside one of our many trusted partners to bring your vision to life and to ensure that we create a stress-free remodel process.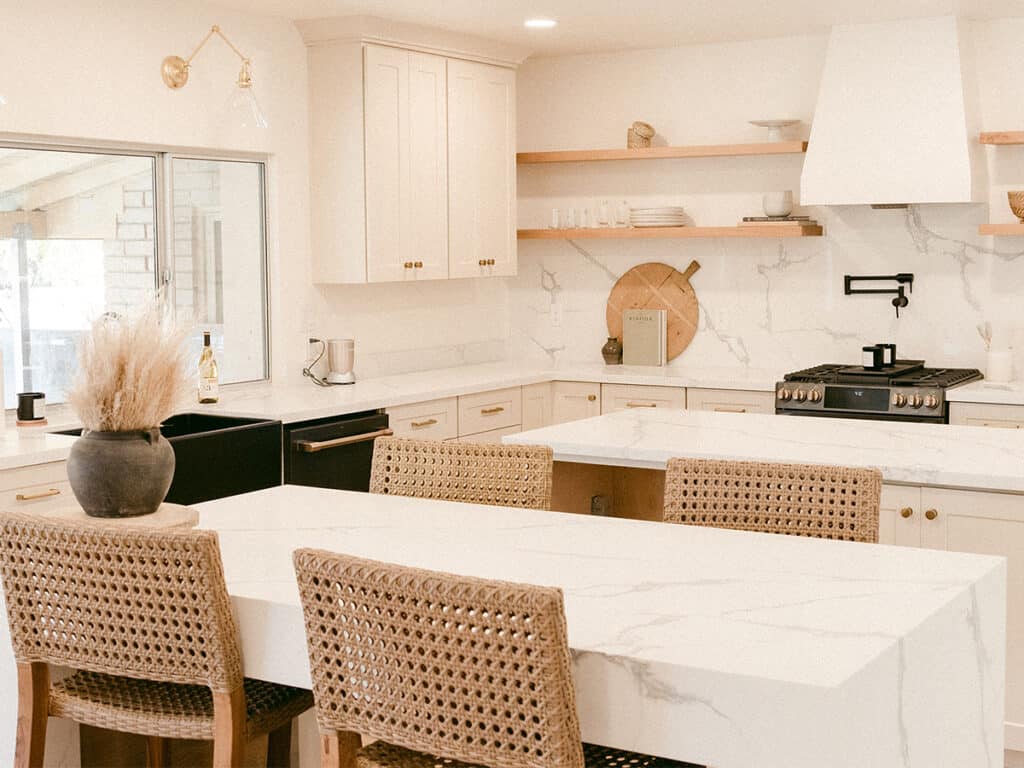 Unique Selling Proposition
Genesis Cabinet Company is not like most kitchen remodeling companies.. First, we pride ourselves in being very personable by maintaining one main point of contact through your entire process. Unlike other kitchen remodeling and cabinet companies, we do not pass you around from person-to-person. This not only helps streamline the process, it creates convenience for our customers. Second, we work hard to keep our prices fair and competitive. Each cabinet supplier we choose has personally been vetted by Genesis to ensure top quality within each varying price point. We can offer high quality cabinetry at competitive prices because we intentionally maintain low overhead – from rent, to smaller showrooms, fewer locations, bidding out projects to multiple suppliers, etc. This alone allows us to offer the same cabinets as other kitchen remodelers but at a 20%+ discount. We know that remodeling any space can be overwhelming and our job is to make the process as simple as possible while creating a space that draws you in. We focus on keeping things personable, being versatile, developing attainable design and listening to our customer's needs. Having this intention creates the best recipe for success!
We Care About People: People are the #1 reason we are in business. We love working with people, helping people create their vision, designing for people to bring their new space to life. Everything we do is focused on people. We intentionally keep a small team so that our environment is PERSONABLE. Unlike many other cabinet providers, we don't cart you around, passing you between the receptionist, designers, processors, project managers, installers, etc. Our goal
is to give you 1 point-of contact through the entire kitchen remodeling process. Not only do we want to keep the process simple for you, we also want to provide you with a an EXPERT team. At Genesis Cabinet company, we have over 40+ years in the cabinet and construction industry. Leveraging our expertise for your kitchen remodel allows you to enjoy the process and let us do the dirty work from designing, ordering, managing timelines, teams, install and solving problems because we guarantee they are going to happen. Oh, and did I mention all of these services are complimentary? We want you to walk away with an experience that was smooth, seamless, and stress-less because you are able to capitalize on our years of knowledge on what works and what doesn't.
Our Process Is Easy: As I mentioned before, we are very intentional about keeping things SIMPLE. We are intentional about how we approach each kitchen remodel because you are different from every one of our past clients and so is your project. Our many years in the cabinet industry has allowed us to become EXPERIENCED in a variety of kitchen projects from new builds and remodels, working alongside partners like builders, designers and architects. No project is too big or small for us, taking pride in each project and carefully addressing all the DEATILED ins and outs of the project.
Our Products Are Amazing: While we may be a bit biased, we truly believe in all the cabinets we offer. When you visit our showroom, we want to ensure that you have variety and DIVERSE options that meet any budget in mind. Unlike others who focused on one-price-point, we have budget-friendly options all the way up to fully custom cabinets. Each of these cabinet providers have personally been vetted by the Genesis staff to ensure that we are offer the best QUALITY at every price point. Because we are very intentional about our products, we are also very intentional about keeping our prices COMPETITIVE. Other cabinet companies carrying the same exact same product lines often charge 10% to 20% more than Genesis. Why? Well, like I mentioned before, we are highly focused on people and keeping you happy. We are able to keep our costs down by having a small team, by putting a showroom in a convenient but less expensive part of Denver and by streamlining processes. Our purposeful driven approach allows you to create the space of your dreams, without having to make sacrifices.
Upcoming and Popular
Home Trends
Architecture and home design trends can come and go, which is why we focus on creating something unique for you and your needs.. Some popular trends this year and light wood colored cabinets, black painted cabinets and even pops of green. Trends that continue to be popular are the beautiful waterfall countertops, bold fixtures and elegant appliances. No matter what you're looking for in your kitchen we make beautiful and functional. Now that we have prepped you for your kitchen remodel, let's talk about design inspiration. One of the best ways to communicate your vision to people you know and to us at Genesis, is to provide lots of pictures. These pictures can include things like:
Style of kitchen cabinet doors you like Click here for some ideas
Colors that you would like to use in your kitchen Click here for some ideas
Cabinet features that you are loving like spice racks or drink coolers Click here for some ideas
What we are seeing as some current favorites and trends are warm, honey toney kitchens along side deep green colors.
Remodel Guide
We recognize that remodeling any part of your home can be overwhelming, stressful and frustrating. At Genesis Cabinet Company, we have developed a 6-step process to help bring your vision to life. From setting goals, building a budget, design and install, , we handle all your needs when remodeling. . We are committed to creating beautifully functional spaces with purpose, that serve a purpose to create the kitchen of your dreams, from start to finish.
We admit that remodeling is a major life stressor. To help you get started on the right foot, we want to offer some suggestions that will help streamline your kitchen remodel.
What Are Your Goals: Before any project starts, think about what you want your end goal to be. Maybe it is better flow, more counterspace or ample amounts of storage. When working with us at Genesis Cabinet, we use our years of experience to help you achieve your goals. TIP: If you want more counterspace you may want to consider hiding your appliances in cabinets where they can not only be stored but also used. Our thoughtful and detailed approach helps you save not only time but money not having to fix little mistakes.
What's Your Budget: After you have outlined your goals, the next step is to determine what your budget is for your kitchen remodel. A good rule of thumb when budgeting your kitchen remodel, is to spend around 15% of the value of your home. TIP: You can keep costs down by reusing your existing appliances, keeping the same layout or demoing yourself. On average, kitchen cabinets will cost anywhere between 30% to 35% of your budget. So let's say that you're budget for your entire kitchen remodel is $75,000. That means that you should plan to spend anywhere between $22,000 and $27,000 for your kitchen cabinets.
Get to Know Your Area: This may sound like a strange tip for a kitchen remodel, but it's to prepare you for what's to come. There are going to be days, even weeks, where your kitchen is either going to be messy or you are waiting for appliances to be delivered, countertops to be installed, the plumbing to be fixed. Planning for these events ahead of time will keep your stress-levels down. Our first tip is to find a gym to join during your kitchen remodel. You don't have to become a fitness junkie. Rather, for a small fee you can find a space to escape to. TIP: Join a gym that offers special amenities like a sauna, hot tub, massage chairs. Some of my local Colorado favorites are Lifetime Fitness, Colorado Athletic Club or Chuze Fitness. Our second recommendation is to become familiar with restaurants in your area. Cooking during a remodel is tricky. TIP: Find local places that have specials, since eating out tends to happen more frequently during a kitchen remodel. Some of our favorites are Ester Neighborhood Pub (kids eat free Tuesdays), Sushi Katsu (all you can eat menu) and Crave Burger (extraordinary burger adventure). Our last recommendation is to visit your local parks, or even take a hike. Living in Colorado, offers 300+ days of sun which means we can enjoy being outdoors year-round. You can even make this outing social. TIP: Invite your friends and/or family for a BBQ in a park where everyone chips in. Plan to bring items that don't involve a lot of work or clean-up – salad, chips, ice-cream or fresh fruit. One of our favorite parks for kids is Centennial Center Park or Four Mile Historic Park which offers a unique & experience.
Find your dream kitchen with Genesis Cabinet Company. We're there with you every step of the way, making sure that no detail goes unnoticed.  You can connect with us directly, in our showroom or by phone to schedule yourr FREE consultation, no strings attached.  today!